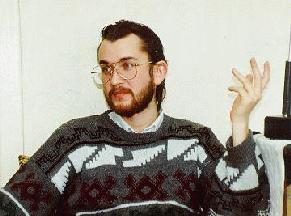 Maybe you prefer Russian version of the Page. Since my native tongue is russian, there are possibly some mistakes, never mind that ! :)))
Russian version of the Page is also available in MS-Windows and DOS encoding.

Here it is some information about me, about who I am, what I am and some other information.

This page is contained discography of some Russian Groups (that is his texts, some information, some photos etc.)

Photos, photos, photos...


Dmitry Vaulin
13 Anton Valek street, offis 400, Ekaterinburg, 620219, Russia

+7 3432 580-441
Fax: +7 3432 594-956
E-Mail: dv@mplik.ru
---
Copyright © 1995,1996
by Dmitry Vaulin, Ural RELCOM Ltd.
All rights reserved